Motion for Mandatory Dismissal – Failure to Bring to Trial within Five Years
Templates and Forms
Motion for Mandatory Dismissal Template - RTF
Background
California Code of Civil Procedure (CCP) §§ 583.310-583.360 set time periods in which a plaintiff must bring an action to trial. The law creates these time limits to ensure that cases are brought to trial before evidence is lost or destroyed, and while witness memories are still reliable. Additionally, requiring cases to be brought to trial within a set time period ensures that cases do not drag on, leaving issues undecided indefinitely.
Under CCP § 583.310, an action must be brought to trial within five years after it is commenced against the defendant. An action "commences" on the date the original complaint is filed with the court against the defendant. If other defendants are later added, those actions will have a different date of commencement.
An action is "brought to trial" when the jury is sworn in a jury trial, or when the first witness is sworn in a non-jury trial. If parties stipulate to arbitration, the arbitration proceedings must begin within the five year period.
This five year period is "tolled" or paused in some situations. Examples include periods after settlement is reached or judgment is entered; periods when it is "impossible, impractical or futile" to bring the action to trial (CCP § 583.340(c)); while the trial court's jurisdiction is suspended, such as when a case is on appeal, or during the time between the death of a defendant and the appointment of a personal representative; during a court-ordered stay of proceedings; or during contractual or judicial arbitration or mediation.
If the action is not brought to trial within five years, dismissal is mandatory on the motion of any party or on the court's own motion. The court makes no determination as to the merits of the case or on the evidence. The dismissal is based solely on a failure to move the case to trial in five years. The court must order a dismissal without prejudice, which allows the plaintiff to re-file the case, if it is still within the statute of limitations period. For more information, see our guide "Statutes of Limitation."
Extension of Time
If it becomes clear that trial cannot commence within five years, the parties to the case may stipulate to extend the time to commence trial either in writing or by an oral agreement made in open court.
Step by Step Instructions
1
Reserve Your
Hearing

Date and Determine Deadlines for Filing and Serving

This information is for Sacramento. If your case is in a different county, do not follow these instructions. Instead, call the clerk or visit the court website in your county to find the correct information.
2
Prepare the Motion
There is no pre-printed form for this motion. You will need to customize a motion on "pleading paper." Instructions and a sample motion are at the end of this guide.
You must file a separate motion for each of the discovery responses you wish to compel. For example, if you served both form interrogatories and requests for production, and got no answer to either, you will need to file two separate motions.
Parts of a Motion
A motion to compel responses to interrogatories or requests for production is made through a motion. A motion is a request to the judge to issue an order of some sort.
A written motion consists of four parts (the Notice of Motion and Motion are combined):
Notice of Motion and Motion;
Points and Authorities; and

Declaration
In addition, you can include a Proposed Order, ready for the judge to sign. In Sacramento, this is generally not needed.
The Notice of Motion lets the opposing party know when and where the motion is scheduled to be heard, while the Motion lets the court and the opposing party know what is being requested. The Points and Authorities explains to the court and the opposing party the legal basis of the motion, while the Declaration provides evidence, sworn under penalty of perjury, supporting the motion.
In the sample and templates, the four parts listed above have been combined into a single document. Although it is possible to include a proposed formal order, the Sacramento County Superior Court typically issues minute orders in response to motions to compel discovery, and does not require a formal order to be submitted.
In Sacramento, the Notice of Motion and Motion must end with the paragraph from Local Rule 1.06 (A) informing the parties of the tentative ruling system. That language is included in the templates and the sample at the end of this Guide.
Modify the Template Motion
There is no Judicial Council form for this procedure. Instead, the relevant documents must be typed on 28-line pleading paper. A customizable template may be downloaded from this link:
More information about how to customize the motion is included on the sample at the end of this guide.
2
Copy and Assemble Your Documents
Make four (4) copies of your Motion. One of these copies is to be served on the other party's attorney (or the other party, if they do not have an attorney); the original and the other three copies are to be filed with the court. Staple each of the copies, but leave the original unstapled so the court can scan it.
Attaching Exhibits
For each exhibit attached to your motion, you must place a page in front of the exhibit identifying it as Exhibit A, B, and so forth in alphabetical order. In one copy, you must use bottom tabs to separate the exhibits, for the convenience of the judge when s/he reads the papers.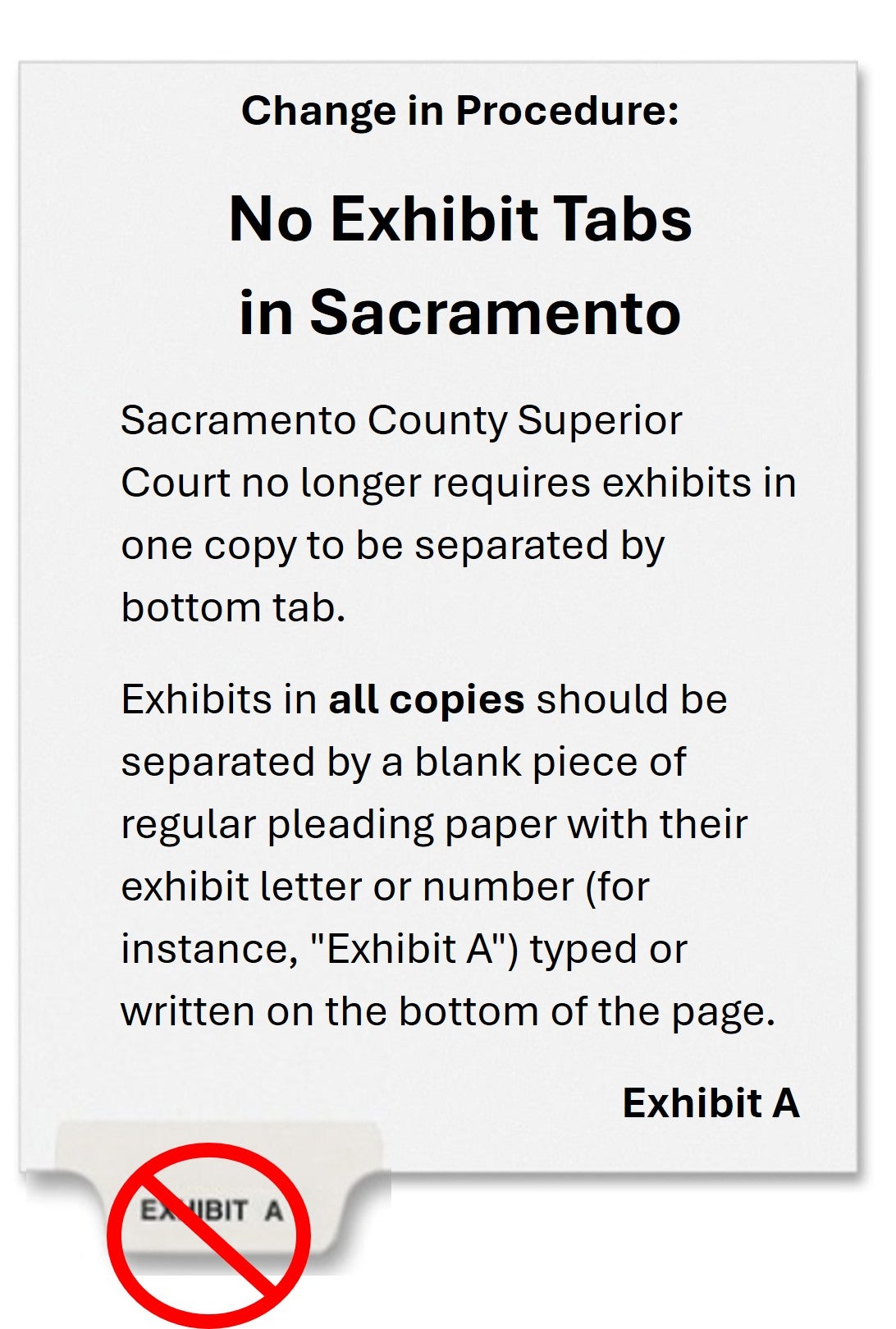 4
Have the Motion Served and Attach the Proof of Service to Remaining Copies
Your motion must be served by a person over the age of 18 who is not a party to the case. Your server must complete a proof of service form, either Proof of Service by First Class Mail (POS-030) or Proof of Personal Service (POS-020). For more information on these Proofs of Service, see our guides for Serving Documents by Mail and Service by Personal Delivery.
The proof of service form should be completely filled out, but not signed. Make a copy of the unsigned proof of service before proceeding and include it with the service copy.
The server must then personally deliver or mail the service copy on the other party's attorney (or the other party, if they do not have an attorney).
The server then signs the Proof of Service form, and gives the signed Proof of Service to you.
Make copies of the signed proof of service. It is not necessary to copy the instruction page. Create a stack of the original Proof of Service plus three copies, like the other papers.
5
File Your Motion in the Law and Motion Department
File the original and two copies of your motion and accompanying documents at the Law & Motion Civil Filing Window in Room 212 on the second floor of the Hall of Justice building, located at 813 6th Street in downtown Sacramento.
Filing Fee: There is a $60 fee to file a motion.
Fee Waiver: If you are receiving government benefits such as Medi-Cal or are otherwise qualified because of low income, you can apply for a fee waiver. If you do not yet have a fee waiver, turn the fee waiver request forms in with the motion instead of a fee payment. For more information, see our Step-by-Step guide on Fee Waivers.
6
Opposition

Papers and Your Optional Reply Papers

If any opposing counsel or self-represented party opposes your motion, he or she may serve and file an opposition at least nine court days prior to your motion. No fee is required to file an opposition. The opposition contains a memorandum of points and authorities and usually a declaration, but does not need the notice of motion or motion. Be sure to check your mail, and read any documents you receive carefully.

If the other attorney or party opposes your motion, you may choose to serve and file a reply to the opposition at least five court days prior to the motion. CCP § 1005. It must be served by overnight mail to reach the opposing party no more than one day after it is filed.

The reply is optional and is usually used to address new issues your opponent raised in the opposition. No fee is required to file a reply. See the our guide on Writing, Scheduling, and Opposing Motions for more information.
7
Review the Tentative Ruling and Notify Court and Opponent if You Wish to Appear
Pursuant to Local Rule 1.06, the judge will read your documents and will post a tentative ruling on the motion by 2:00 p.m. the court day before the hearing. (If you are not filing in Sacramento, check with your county court for their rules on tentative rulings. Most counties use a similar system.)
You may read the tentative ruling online or call Department 53 (916-874-7858) or Department 54 (916-874-7848) to have a clerk read the ruling to you. For more information, see the Tentative Ruling Information page on the Sacramento County Superior Court's website.
Closely review the tentative ruling. Since you are asking the court for to set aside the default, you are looking for your motion to be "GRANTED." If the court does not grant your request, your motion will be "DENIED." Even if your request is granted, be sure to read the tentative ruling very carefully, since it will likely contain other important information such as if and when you need to serve and file your proposed Answer (or other response).
If you are happy with the tentative ruling: you do not need to do anything. You won't have to go to court unless ordered to appear in the tentative ruling or unless the other side calls you and the court between 2:00 p.m. and 4:00 p.m. the court day before your hearing date to request an oral argument in front of the judge. If that happens, you should go to the court hearing and be prepared to argue why your motion should be granted.
If you are not happy with the tentative ruling: You can present arguments in front of the judge. To do so, call the Law and Motion Oral Argument Request Line at (916) 874-2615 by 4:00 p.m. the Court day before the hearing. You must also contact all opposing counsel and/or self-represented parties before 4:00 p.m. to let them know that you are requesting oral argument on the motion.
8
Attend the Hearing, if Necessary
If neither party calls the court and opposing party to request oral argument, the court will simply make the tentative ruling the order of the court.
If you or the other party request oral argument, you can attend in person or remotely by video or phone call using the Zoom app. The tentative ruling will explain how to connect if you choose to use Zoom.
Arrive or log onto Zoom early. There will probably be other cases scheduled at the same time. Go into the courtroom or Zoom waiting room and check in with the bailiff or clerk..
When your name is called, be ready to speak and to answer any questions the judge has. You will only have a few minutes. After both sides speak, the judge may make a decision right away, or may "take it under consideration" and mail out the decision in a few days.
For Help
SH@LL (Self-Help at the Law Library) (formerly Civil Self Help Center)
609 9th Street, Sacramento CA 95814
(916) 476-2731 (Appointment Request Line)
Services Provided: SH@LL provides general information and basic assistance to self-represented litigants on a variety of civil legal issues, including name changes. All assistance is provided by telephone. Visit "What we can help with" for a list of qualifying cases.
Eligibility: Must be a Sacramento County resident or have a qualifying case in the Sacramento County Superior Court.
For More Information
At the Law Library:
California Civil Courtroom Handbook and Desktop Reference KFC 995 .Z9 T46
§§ 20:26-20:41
California Civil Practice: Procedure KFC 995 .A65 B3 §§ 22:41-22:64
California Forms of Pleading and Practice KFC 1010 .A65 C3 (Ready Reference)
§§ 212.120-212.149
Electronic Access: On the Law Library's computers, using Lexis Advance.
California Practice Guide: Civil Procedure Before Trial KFC 995 .W45
§§ 11:191 et seq.
California Pretrial Civil Procedure Practice Guide: The Wagstaffe Group KFC 995 .W34 Chap. 59
Electronic Access: On the Law Library's computers, using Lexis Advance.
Samples and Instructions
Motion for Mandatory Dismissal – Failure to Bring to Trial within Five Years (Page 1 of 5)
Motion for Mandatory Dismissal – Failure to Bring to Trial within Five Years (Page 2 of 5)
Motion for Mandatory Dismissal – Failure to Bring to Trial within Five Years (Page 3 of 5)
Motion for Mandatory Dismissal – Failure to Bring to Trial within Five Years (Page 4 of 5)
Motion for Mandatory Dismissal – Failure to Bring to Trial within Five Years (Page 5 of 5)
This material is intended as general information only. Your case may have factors requiring different procedures or forms. The information and instructions are provided for use in the Sacramento County Superior Court. Please keep in mind that each court may have different requirements. If you need further assistance consult a lawyer.